Trailer
Synopsis
nach Wriezen – Ein Film über das Leben nach der Haft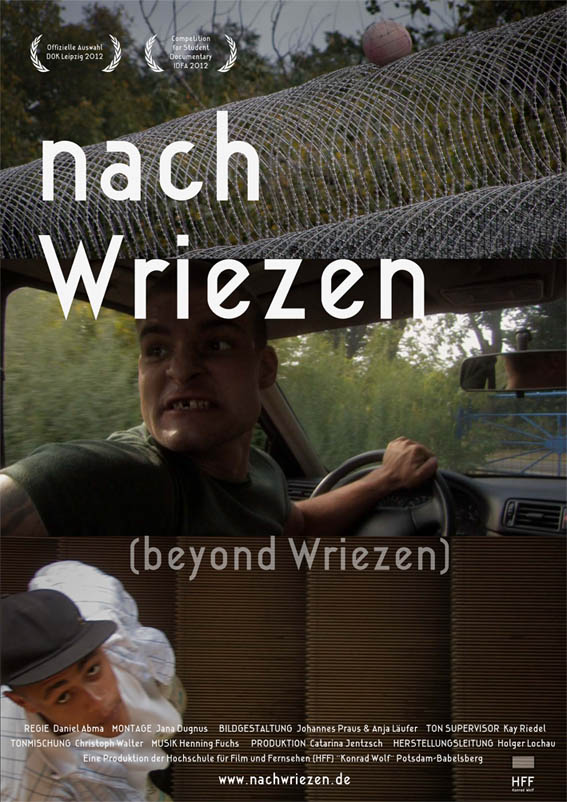 Der Dokumentarfilm von Daniel Abma begleitet die drei straffällig gewordenen Jugendlichen Imo (22), Jano (17) und Marcel (25) am Tag ihrer Entlassung aus der JVA Wriezen (Brandenburg) und über die folgenden drei Jahre. Die drei jungen Protagonisten sind auf den ersten Blick sehr unterschiedlich. Da ist Jano, der kleinkriminelle Drogendealer vom Dorf. Dann Imo, dem nicht nur seine Aggressionen, sondern auch jede andere Gefühlsregung vom Gesicht abzulesen ist. Und schließlich Marcel, der für den Mord am 16-jährigen Marinus aus Potzlow verurteilt wurde.
Das neue Leben der drei Jungs beginnt am Bahnhof von Wriezen, wo sie alle mit den gleichen Wünschen in ihr neues Leben starten: eine Arbeitsstelle, eine Wohnung, eine Freundin. Drei einfache Begriffe. Es ist die Sehnsucht nach Sicherheit, Geborgenheit, Anerkennung und Liebe. Doch schon der Tag der Entlassung gestaltet sich ganz unterschiedlich…
Was fordert das Leben in unserer Gesellschaft von jedem einzelnen? Welche Voraussetzungen muss man haben, um ein selbstbestimmtes, erfolgreiches Leben zu führen? Ist der Tag der Entlassung eine Chance auf ein neues Leben oder bleibt man für immer ein Knacki, den Anforderungen des Lebens nicht gewachsen?
Beyond Wriezen – A film about life after jail
Daniel Abma's documentary accompanies three young offenders – Imo (22), Jano (17) and Marcel (25) – on the day they are released from Wriezen prison in Brandenburg, eastern Germany, and over the three years that follow.
At first sight, the three young protagonists are very different. Jano is a small-time drug dealer from a nearby village. Imo's face reveals his aggression and every other emotion he experiences. Then there's Marcel, who was convicted of murdering 16-year-old Marinus from Potzlow.
The young men's new life begins at Wriezen station, where they all set out hoping for the same things: a job, somewhere to live, a girlfriend. Three simple concepts, embodying the yearning for security, emotional safety, respect and love. But the very first day turns out differently for each of the protagonists…
What does life in our society ask of each of us? What do we need in order to live an autonomous, successful life? Is release day a chance to start afresh, or do you stay a jailbird forever, unable to cope with the challenges of everyday life?
Stream
NACH WRIEZEN ist in Deutschland kostenlos online als Stream verfügbar in der
Mediathek der Bundeszentrale für politische Bildung.
Die DVD wurde herausgegeben im Verleih von Renaissance Medien:
Sprache: Deutsch
Tonformat: Deutsch (Dolby Digital 2.0), Deutsch (Dolby Digital 5.1)
Untertitel: Englisch
Specials: Audiokommentar; Deleted Scenes
Reviews
Eine mutige Langzeitbeobachtung über die Schwierigkeiten eines neuen Starts und das latente Gewaltpotenzial einer Gesellschaft.
Filmdienst Dezember 2012 – Autor: Kay Hofmann.
Über dem Film liegt ein frivol-realistischer Spannungsbogen, der sich unserem Blick auf die Gesellschaft verdankt: Wer kommt wirklich raus? Abma bedient diesen Voyeurismus nicht, er vermittelt vielmehr einen Eindruck davon, dass der Kampf, der Resozialisierung heißt, viel früher schwere Niederlagen eingesteckt hat.
Cargo Dezember 2012 – Autor: Matthias Dell.
Als Zuschauer blickt man hier immer auch auf das eigene Selbstverständnis von Normativität, Recht und Moral. "Nach Wriezen" entzieht sich mit großer Selbstsicherheit gefälligen Deutungshoheiten – dem Urteil über richtige und falsche Lebensentwürfe – und ist wohl gerade deshalb einer dieser "kleinen" Filme, die große Wirkung entfalten.
Vollständigen Artikel auf berliner-filmfestivals.de lesen. Autor: Martin Daßinnies
Eine Dokumentation, die einen über Tage hinweg nicht loslässt und der viel Erfolg und Publikum zu wünschen ist.
Vollständigen Artikel auf Suite101.de lesen. Autor: Bernd Auzinger.
Resozialisierung nennt sich dieser Weg im gesellschaftlichen Kontext; für die drei jungen Männer ist es ganz profane Alltagsrealität, die irgendwie gelebt und bewältigt werden muss.
Vollständigen Artikel auf kino-zeit.de lesen. Autorin: Kirstin Kieninger
Daniel Abma – und das ist ebenso mutig, führt uns in ein Milieu, das so ausweglos scheint, dass alle wegschauen.
Katalog DOK Leipzig 2012. Autorin: Cornelia Klauß.
a gripping portrayal of three troubled young men as they attempt – with varying degrees of success – to build new lives after being released from a prison near Berlin.
Radio Prague – March 2013 – Ian Willoughby
The film moves beyond its prejudice and treats every character with dignity and respect, while capturing genuine humorous moments. It's extremely well shot, with every situation captured in only a few images in which the director didn't linger.
Exerpt IDFA Jury-statement.

Awards
Nonfiktionale-Preis der Stadt Bad Aibling, 2023, Germany
Grimme Award 2015, Germany
Best Film, Favourites Filmfestival Bremen 2014, Germany
Winner of the Pravo Ljudski Film Festival 2013, Sarajevo
Special mention, Kasseler Dokfest 2013, Germany
Best 1st–2nd Documentary, Minsk International Film Festival Listapad 2013, Belarus
Best feature-lenght Documentary, Sehsüchte Filmfestival Potsdam 2013, Germany
Best editing, Sehsüchte Filmfestival Potsdam 2013, Germany
Audience Award, Docudays UA Kiev 2013, Ukraine
Special mention ecumenical jury – Achtung Berlin Filmfestival 2013, Berlin, Germany
Young talents price – Incredible Filmfestival 2013, Potsdam, Germany
Nomination "best student documentary" 2012 IDFA International Documentary Film Festival Amsterdam, the Netherlands
Filmfestivals
Oct. 2012, DOK Leipzig International Leipzig Festival for Documentary and Animated Film, German Competition
Nov. 2012, IDFA International Documentary Film Festival Amsterdam, Student Competition
Jan. 2013, DocPoint Helsinki Documentary Festival, Finland
Mar. 2013, One World Human Rights Documentary Film Festival Prague, Czech Republic
Mar. 2013, Bergamo Filmmeeting, Italy
Mar. 2013, Thessaloniki Documentary Festival, Greece
Mar. 2013, Docudays UA International Human Rights Documentary Film Festival, Kiev, Ukraine
Apr. 2013, Achtung Berlin new berlin film award, Documentary Competition
Apr. 2013, SEHSÜCHTE 42. International Studentfilmfestival, Documentary Competition
Mai. 2013, Filmkunstfest Schwerin, Germany, Documentary Competition
Mai. 2013, Neissefilmfestival, Grosshenningsdorf, Germany
Mai. 2013, DOK.fest München, Germany
Mai. 2013, Human Rights Filmfestival Barcelona, Spain
Mai. 2013, One World Human Rights Filmfestival Brussels, Belgium
Juli. 2013, Lubuskie Lato Filmowe Lagów, Documentary Competition, Poland
Aug. 2013, Favourites Film Festival, Berlin, Germany
Aug. 2013, Incredible Filmfestival, Potsdam, Germany
Sep. 2013, IHRFFA | International Human Rights Festival Albania, Tirana, Albania
Oct. 2013, Antenna International Documentary Festival, Sidney, Australia
Oct. 2013, Nürnberger Filmfestival der Menschenrechte, Nürnberg, Germany
Oct. 2013, Document 11 International Human Rights Documentary Film Festival, Glasgow, United Kingdom
Oct. 2013, CinéDOC – Documentary Film Festival, Tbilisi, Georgia, international competition
Nov. 2013, Minsk International Film Festival LISTAPAD, Minsk, Republic of Belarus
Nov. 2013, 30. Kasseler Dokumentarfilm- und Videofest, Kassel, Germany
Nov. 2013, Pravo Ljudski Film Festival, Sarajevo, Bosnia and Herzegovina
Nov. 2013, FILMZ festival des Deutschen Kino, Mainz, Germany, Documentary competition
Nov. 2013, Oulu International Children's and Youth Film festival, Oulu, Finland
Mai. 2014, Favourites Film Festival Bremen, Bremen, Germany
Jun. 2014, Gdansk DocFilm Festival, Gdansk, Poland
Nov. 2014, Filmfest Berlin Lichtenberg, Berlin, Germany
Aug. 2017, Wilde Möhre Festival, Göritz, Germany
Mar. 2023, Non-Fiktionale, Bad Aibling, Germany

Pressemappe & Download
Presskit
Press kit (English, pdf, 4MB)
Pressemappe (Deutsch, pdf, 4MB)
Filmstills for Download
Filmstill-1 High-resolution (jpg, 1MB, Protagonist Imo, © Johannes Praus)
Filmstill-2 High-resolution (jpg, 1MB, Protagonist Imo, © Johannes Praus)
Filmstill-3 High-resolution (jpg, 1MB, Protagonist Imo, © Johannes Praus)
Filmstill-4 High-resolution (jpg, 1MB, Protagonist Imo, © Johannes Praus)
Filmposter Download
Filmposter "nach Wriezen" / "beyond Wriezen" DIN-A4 format (jpg, 6MB)
Credits
Eine Produktion der Hochschule für Film und Fernsehen (HFF) "Konrad Wolf" Potsdam-Babelsberg
A production of the University of Film and Television "Konrad Wolf", Potsdam-Babelsberg, Germany

Technical Details 2012, Documentary, 87 min., col, HDcam & DCP, 25fps, 16:9, Dolby 5.1., German OV w. Engl st.
Idee, Regie, Buch Daniel Abma
Bildgestaltung Johannes Praus und Anja Läufer
Montage Jana Dugnus
Musik Henning Fuchs
Produktion Catarina Jentzsch
Produktionsassistenz Maximilian Grabinger
Postproduktion Koordination Marie-Christine Ernst
Postproduktion Supervisor Uli Kunz
Montageassistenz Eva Gehnke, Julia Schulz, Daniel Quack
Sound Supervisor Kay Riedel
Sound Editor & Sound Designer Christoph Walter, Tim Altrichter, Alexandra Praet, Malte Eiben, Constantin Kirsten, Kay Riedel
Re-recording Mixer Christoph Walter
Re-recording Assistent Luise Hofmann
Foley Supervisor Luise Hofmann
Foley Artist Peter Roigk
Ton Aufnahme Daniel Abma
Ton Beratung Linus Nickl, Torben Seemann, Paul Eisenach
Musikmischung Nils Vogel
Herstellungsleiter Holger Lochau
Rechtsberatung Alexandra Hölzer
Farbkorrektur Eva Martha Zimmermann
Vfx Jelde Fleßner
Mastererstellung Oliver Holz
Untertitel Katharina Voß
Grafik Gerjo van Dam / www.sgaar.nl
Distribution Worldwide
CINEPHIL
18 Levontin Street, Tel Aviv 6511207, Israel
T: +972 3 566 4129
F: +972 3 560 1436
E: info@cinephil.co.il
https://cinephil.com/
Festivals and Distribution in Germany
Film University Babelsberg
Cristina Marx
Marlene Dietrich Allee 11
D – 11482 Potsdam-Babelsberg, Germany
T: +49(0)331 6202 564
E: distribution[at]filmuniversitaet.de
www.filmuniversitaet.de